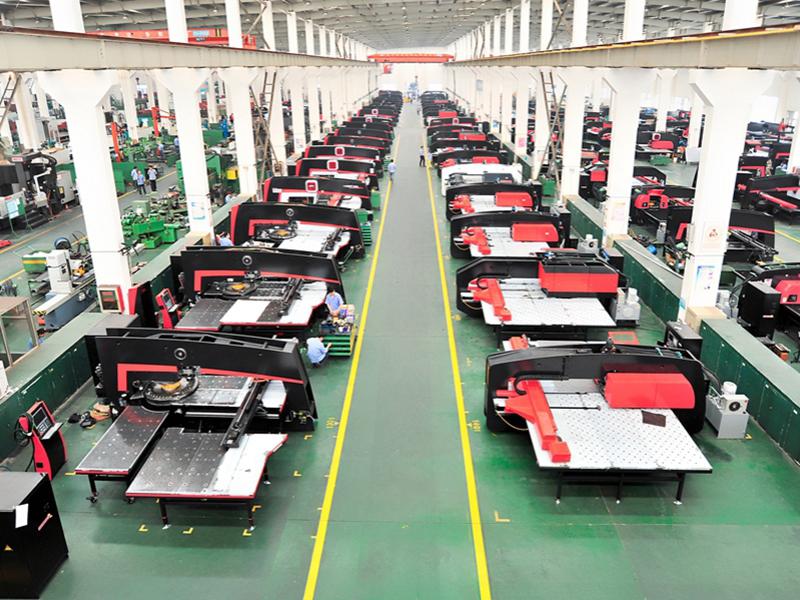 SJR Machinery was founded in 1997 by Mr. Song Jingru. Two years after that, China Jiangsu International Group joined us and we began a process of rapid development.
SJR Machinery is headquartered in Nantong. We are a specialized manufacturer of metalworking machinery and carry out related import and export business with more than 20 years of experience. We have developed and produced more than 80 different types of machine tools, such as lathes, milling machines, grinding machines, stamping presses, hydraulic gates, and hydraulic brakes. Today, we have customers across 40 countries around the world.
We also own a subsidiary named SRJ (Shanghai FTZ) in Shanghai, China. In support of the SJR Machinery parent brand, SJR (Shanghai FTZ) produces metalworking machines used for cutting and shaping metal workpieces for our customers. Our main products include metalworking lathes, milling machines, grinding machines, mechanical power press machines, hydraulic blending machines, and CNC machine tools. We can provide high quality service and systematical training to meet your requirements. Our highly skilled technical staff can help you reach your highest production efficiency using our equipment. We are here to offer outstanding products at competitive prices and complete after-sales services. We strive to be your first choice when it comes to the supply of high quality metalworking machinery.
Development of SJR Machinery
In 1997
SJR Machinery is established as a producer of machine tools and import and export functions by Mr. Song Jingru. Our machine tools were sold all around the world with sales surpassing a million dollars.
In 1999
There were 12 staff members in our 100 m2 office while sales reached $2.5 million.
In 10/1999
China Jiangsu International Economic and Technical Cooperation Group, Ltd joined us, and helped us implement a series of reforms. The company experienced rapid development from then on.
In 2002
There were 20 team members in our 200 m2 office while sales reached $15 million.
In 2008
We moved into a 450 m2 office, and sales reached $38 million.
In 2014
We set a branch office in China (Shanghai) pilot free trade zone.
The projects SJR Machinery completed in the past 20 years
1. Water heater production line.
2. Air-conditioner, condenser and evaporator production line.
3. Refrigerator production line.
4. Steel door and wooden door production line.
5. Electrical control panel production line.
6. Industrial transformer plant production line.
7. Hot dip galvanizing line and powder coating line.
8. Stamping line with transfer or robots.
9. Complete factory for waterjet cutting.
10. Shipyard plant for Metal plates cutting and modification line for shipbuilding.
11. Glazing line
12. CNC punching and shearing line