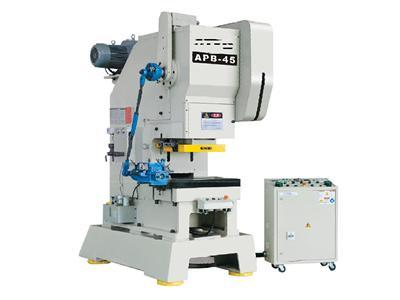 Characteristic
The metal stamping press is manufactured using strong steel casting. It features high precision, high rigidity and seismic resistance after heat treatment and eliminating the internal stress of the casting.
The slide is on the long slide way to ensure the precision and stability of the stamping press during operation.
The transmission parts of the stamping press adopt a centralized testing and automatic forced lubrication system, which can achieve real-time control and self-protection function.
Sensitive and reliable clutch/brake, excellent double solenoid valve were used to ensure the precision and safety of the start and stop of slide.
This precision high speed stamping press is designed with a complete electric circuit, meeting European standards.
The punch is designed with a 3 point pivot system composed by guide post and plunger piston, which is useful for long-term precision operation.
Touch screen not only makes it easy to set and operate, but also can display the fault information for quick and easy maintenance.
Technical Specifications
Item
Unit
APB-25
Capacity
Ton
25
Stroke
mm
300
Die height
mm
200
Stroke per minute
S.P.M
0(200)-400
Slide adjustment
mm
50
Slide area
mm
300× 240× 50
Bolster area
mm
530× 310× 70
Bed opening (LR×FB)
mm
300× 160
Main motor
KW
2.2
Max. weight of
upper die
kg
30
Presses dimension
mm
1100× 760× 1800
Presses weight
ton
1.8
Presses precision
GB(JIS) 1 class-J
Item
Unit
APB-45
Capacity
Ton
45
Stroke
mm
30
Die height
mm
240
Stroke per minute
S.P.M
0(200)-400
Slide adjustment
mm
75
Slide area
mm
460×340×70
Bolster area
mm
720×460×80
Bed opening (LR×FB)
mm
360×200
Main motor
KW
55
Max. weight of
upper die
kg
150
Presses dimension
mm
1700×1000×2400
Presses weight
ton
3.7
Presses precision
GB(JIS) 1 class-J
Standard Configuration
1. Sticking release device
2. Automatically-recirculating lubrication Device
3. Manual slide adjusting device
4. Electrical stroke counter
5. Programmable logical controller
6. Balance device
7. Rotary cam switch
8. Crank angle indicator
9. Air source receptacle
Optional Configuration
1. Air ejector
2. Auti-vibration press mount
3. Inverter
4. Die room light
5. Preset counter
6. Feeder
7. Misfeed detection consent
8. Electronic cam displayer
9. PAC 100 counter system
10. Human-machine counter system
Index
metal punching machine, power press, progressive die stamping, precision metal stamping