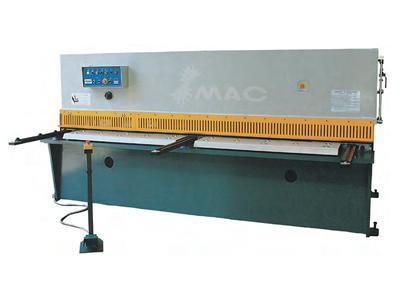 Characteristics
This sheet metal shearing machine utilizes a steel sheet welded structure frame, hydraulic transmission and nitrogen return. Each of these gives the machine its high performance and attractive appearance.
There is an indicator to guide users in convenient, fast adjustment of the blade gap.
There is a lighting device used to illuminate the sheet metal, thus facilitating shearing precision.
The work area uses a protective fence for safe operation.
There is a display device that displays the back gauge and shearing time.
This shearing machine is suitable for sheet metal with a thickness of 1-10mm, a width of 2500mm, and a strength of 500N/mm2. Often, when the sheet is stronger, the thickness is smaller.
This sheet metal shearing machine uses a steel sheet welded structure frame, hydraulic drive, and return stroke cylinder. It features a small volume, light weight, high rigidity and low noise.
This sheet metal shearing machine has an encoder for the back gauge, which cooperates with a digital display system in order to improve the display precision and shearing precision.
Blade adjustment is fast and convenient, with the upper blade holder capable of adjusting with pole free speed regulation. The front gauge can count and artificially measure direction, as well as draw overlapping lines, which is convenient for later shearing.
Application
SBSH series sheet metal shearing machines are capable of shearing sheet metal in varying thickness levels. They can be divided into three types: level shearing, rolling shearing and vibratory shearing. Level shearing has a broader use than the other two. A mechanical transmission is used when the sheet metal thickness is less than 10mm, with hydraulic transmission used when the sheet thickness is higher than 10mm. Typically, a foot pedal or button are used for single or continuous shearing.
Technical Specifications
| | | | | | | |
| --- | --- | --- | --- | --- | --- | --- |
| Model | Max. shearing thickness (mm) | Max. shearing width (mm) | Shear angle (°) | Number of stroke (/min) | Backguage range (mm) | Main motor power (kw) |
| SBSH-4X2500 | 4 | 2500 | 1"30' | 20 | 20-600 | 4 |
| SBSH-4X3200 | 4 | 3200 | 1"30' | 18 | 20-600 | 5.5 |
| SBSH-4X4000 | 4 | 4000 | 1"30' | 18 | 20-600 | 7.5 |
| | | | | | | |
| --- | --- | --- | --- | --- | --- | --- |
| Model | Max. shearing thickness (mm) | Max. shearing width (mm) | Shear angle (°) | Number of stroke (/min) | Backguage range (mm) | Main motor power (kw) |
| SBSH-6X2500 | 6 | 2500 | 1"30' | 18 | 20-600 | 7.5 |
| SBSH-6X3200 | 6 | 3200 | 1"30' | 14 | 20-600 | 7.5 |
| SBSH-6X4000 | 6 | 4000 | 1"30' | 14 | 20-600 | 7.5 |
| SBSH-6X5000 | 6 | 5000 | 1"30' | 10 | 20-800 | 11 |
| SBSH-6X6000 | 6 | 6000 | 1"30' | 10 | 20-800 | 11 |
| | | | | | | |
| --- | --- | --- | --- | --- | --- | --- |
| Model | Max. shearing thickness (mm) | Max. shearing width (mm) | Shear angle (°) | Number of stroke (/min) | Backguage range (mm) | Main motor power (kw) |
| SBSH-10X2500 | 10 | 2500 | 1"30' | 14 | 20-800 | 11 |
| SBSH-10X3200 | 10 | 3200 | 1"30' | 12 | 20-800 | 11 |
| SBSH-10X4000 | 10 | 4000 | 1"30' | 12 | 20-800 | 11 |
| SBSH-10X6000 | 10 | 6000 | 2" | 10 | 20-800 | 15 |
| | | | | | | |
| --- | --- | --- | --- | --- | --- | --- |
| Model | Max. shearing thickness (mm) | Max. shearing width (mm) | Shear angle (°) | Number of stroke (/min) | Backguage range (mm) | Main motor power (kw) |
| SBSH-12X2500 | 12 | 2500 | 1"30' | 16 | 20-800 | 18.5 |
| SBSH-12X3200 | 12 | 3200 | 1"30' | 14 | 20-800 | 18.5 |
| SBSH-12X4000 | 12 | 4000 | 1"30' | 14 | 20-800 | 18.5 |
| SBSH-12X5000 | 12 | 5000 | 1"30' | 7 | 20-800 | 30 |
| SBSH-12X6000 | 12 | 6000 | 2" | 6 | 20-1000 | 37 |
| SBSH-12X8000 | 12 | 8000 | 2"30' | 5 | 20-1000 | 37 |
| | | | | | | |
| --- | --- | --- | --- | --- | --- | --- |
| Model | Max. shearing thickness (mm) | Max. shearing width (mm) | Shear angle (°) | Number of stroke (/min) | Backguage range (mm) | Main motor power (kw) |
| SBSH-20X2500 | 20 | 2500 | 2"30' | 5 | 20-1000 | 30 |
| SBSH-20X3200 | 20 | 3200 | 2"30' | 4 | 20-1000 | 30 |
| SBSH-20X4000 | 20 | 4000 | 2"30' | 3 | 20-1000 | 37 |
Factory
Index
hydraulic shear, sheet metal shear, sheet metal cutting