VSHS Series Hydraulic Guillotine Shear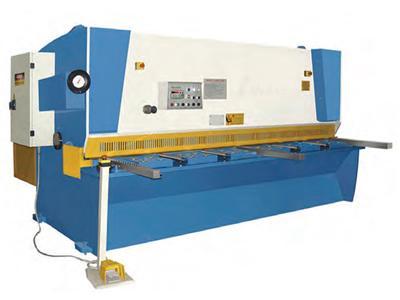 Characteristics
This sheet metal shearing machine uses a steel sheet welded structure frame, and a comprehensive treatment of vibration and heat treatment to relieve internal stress, thus ensuring the machine has an excellent rigidity and stability.
It uses an advanced and integrated hydraulic system in order to ensure the machine has an outstanding reliability.
The shearing machine uses a 3 point supporting rolling guideway in order to eliminate the bearing clearance, and improve the shearing precision.
The blade gap can be adjusted using a hand wheel, making adjustment fast, precise and convenient.
The cutting edge of the 4 sided rectangular blade gives the blade a long service life.
The distortion levels of the sheet metal are reduced simply by adjusting the shear angle.
The upper blade holder has an inward tiling structure in order to facilitate material feed in, as well as improve the workpiece accuracy.
The equipped pneumatic protection device protects the sheet metal when shearing.
This shearing machine features a sub-shear function and an alignment device with lighting.
Pneumatic front protect guard
Hydraulic EBM Germany piping system
Blade clearance adjustment
Operation panel
Electric cabinet
---
Application
This sheet metal shearing machine is used to shear the workblanks of sheet metal.
Technical Specifications
| | | | | | | | | | |
| --- | --- | --- | --- | --- | --- | --- | --- | --- | --- |
| Model | Max. shearing thickness (mm) | Max. shearing width (mm) | Number of stroke (/min) | Backguage range (mm) | Shear angle (°) | Throat Depth (mm) | Main motor power (kw) | Weight (kg) | Dimension |
| VSHS-6X2500 | 6 | 2500 | 10~40 | 750 | 0.5~2.5 | 70 | 7.5 | 5150 | 3240×1770×2010 |
| VSHS-6X3100 | 6 | 3100 | 8~35 | 750 | 0.5~2.5 | 70 | 7.5 | 5800 | 3790×1800×2100 |
| VSHS-6X4000 | 6 | 4000 | 7~30 | 750 | 0.5~2.5 | 70 | 7.5 | 7100 | 4740×1805×2110 |
| VSHS-6X6000 | 6 | 6000 | 5~30 | 1000 | 0.5~2.5 | 100 | 15 | 21000 | 6800×2350×2790 |
| VSHS-8X2500 | 8 | 2500 | 10~40 | 750 | 0.5~2.5 | 70 | 11 | 5500 | 3240×1770×2010 |
| VSHS-8X3100 | 8 | 3100 | 8~36 | 750 | 0.5~2.5 | 70 | 11 | 6100 | 3800×1800×2060 |
| VSHS-8X4000 | 8 | 4000 | 7~30 | 750 | 0.5~2.5 | 70 | 11 | 7400 | 4750×1805×2140 |
| VSHS-8X6000 | 8 | 6000 | 5~30 | 1000 | 0.5~2.5 | 100 | 22 | 22000 | 6900×2350×2800 |
| VSHS-10X2500 | 10 | 2500 | 10~35 | 750 | 0.5~2.5 | 100 | 11 | 6700 | 3310×1850×2160 |
| VSHS-10X3100 | 10 | 3100 | 8~35 | 750 | 0.5~2.5 | 100 | 11 | 7400 | 3860×1870×2170 |
| VSHS-10X4000 | 10 | 4000 | 6~35 | 750 | 0.5~2.5 | 100 | 15 | 9200 | 4810×1920×2350 |
| VSHS-12X2500 | 12 | 2500 | 10~35 | 1000 | 0.5~2.5 | 100 | 15 | 7200 | 3310×2180×2270 |
| VSHS-12X3100 | 12 | 3100 | 8~35 | 1000 | 0.5~2.5 | 100 | 15 | 9000 | 3860×2200×2325 |
| VSHS-12X4000 | 12 | 4000 | 6~35 | 1000 | 0.5~2.5 | 100 | 30 | 11600 | 4810V2200×2335 |
| VSHS-12X6000 | 12 | 6000 | 5~12 | 1000 | 0.5~2.5 | 100 | 30 | 32000 | 6950×2350×3100 |
| VSHS-14X6000 | 14 | 6000 | 5~12 | 1000 | 0.5~2.5 | 100 | 30 | 34000 | 7000×2350×3100 |
| VSHS-16X2500 | 16 | 2500 | 8~30 | 1000 | 0.5~2.5 | 100 | 30 | 9600 | 3350×2190×2350 |
| VSHS-16X3100 | 16 | 3100 | 7~30 | 1000 | 0.5~2.5 | 100 | 30 | 11500 | 3900×2190×2430 |
| VSHS-16X4000 | 16 | 4000 | 6~30 | 1000 | 0.5~3.0 | 100 | 30 | 15100 | 4850×2340×2575 |
| VSHS-16X6000 | 16 | 6000 | 4~12 | 1000 | 0.5~2.5 | 100 | 37 | 36000 | 7000×2400×3100 |
| VSHS-20X2500 | 20 | 2500 | 8~30 | 1000 | 0.5~3.0 | 100 | 30 | 14000 | 3385×2235×2665 |
| VSHS-20X3100 | 20 | 3100 | 7~30 | 1000 | 0.5~3.0 | 100 | 30 | 17200 | 3935×2285×3030 |
| VSHS-20X4000 | 20 | 4000 | 6~30 | 1000 | 0.5~3.0 | 100 | 30 | 21200 | 4935×2330×3045 |
| VSHS-20X6000 | 20 | 6000 | 3~10 | 1000 | 0.5~2.5 | 100 | 55 | 55000 | 7050×2600×3544 |
| VSHS-25X2500 | 25 | 2500 | 5~30 | 1000 | 0.5~3.0 | 100 | 37 | 19000 | 3680×2200×3130 |
| VSHS-25X3100 | 25 | 3100 | 4~30 | 1000 | 0.5~3.0 | 100 | 37 | 23500 | 3970×2370×3160 |
| VSHS-25X4000 | 25 | 4000 | 3~30 | 1000 | 0.5~3.0 | 100 | 37 | 33000 | 5000×2370×3380 |
Factory