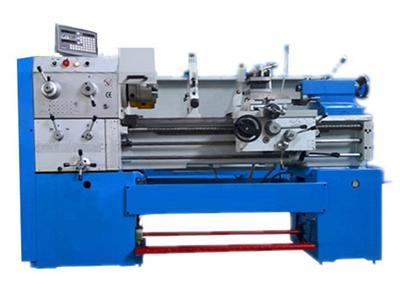 Introduction
The LYC series metalworking lathe is used to produce cylindrical, bore, end face and conic parts, as well as drill holes, ream holes and pull oil grooves. It is often used to process in different measurement units, including metric, inch, module and pitch threads, making it suitable for high precision applications in low volume production and machine reparation plants.
This lathe can process steel, cast iron, nonferrous metals and nonmetal material. The precision and surface roughness of parts processed in this lathe reach level IT7 and 1.6, respectively.
It is easy to use this series due to the simple structure and high performance.
Characteristics
The quenched gear is processed through precise grinding, which ensures the lathe emits very little noise during operation.
The lathe can process raw materials with three diameters due to the spindle holes being 65mm, 80mm and 103mm in diameter, respectively.
The sliding box is equipped with forward and backward accessories, which controls the knife rest moving speed.
The gear is protected in the gearbox due to the overload protection effect of the lead screw and polish rod.
The lathe is available in various types: metric, inch, right hand maneuver wheel, multiple voltages, frequency, forward device and protective equipment that matches CE requirements.
Technical Specifications
Item / Model
LY6 1/2 40C
LY6 1/2 45C
LY6 1/2 50C
LY6 1/2 60C
Capacity
Max. swing over bed
400mm
450mm
500mm
600mm
Max. swing over cross slide
225mm
285mm
325mm
380mm
Center distance
1000,1500,2000mm
Max swing over gap
530mm
580mm
630mm
730mm
Effective length of gap
260mm
Bed width
330mm
Headstock
Spindle hole
80mm
Spindle nose
ISO-C8 or ISO-D8
Spindle tapper
Metric 85mm
Spindle speed (number)
24-1600rpm
Feed
Metric threads range (Kinds)
0.5-28mm
Inch threads range (Kinds)
1-56inch
Module threads range (Kinds)
0.5-35mm
Diametral threads range (kinds)
8-56D.P
Longitudinal feeds range (kinds)
0.072-4.038mm/rev (0.0027-0.15inch/rev)
Cross feeds range (kinds)
0.036-2.019mm/rev (0.0013-0.075inch/rev)
Rapid trading speed of carriage
5m/min (16.4ft/min)
leadscrew size/ Diameter pitch
35mm/6mm or 35mm/1/4
Slide plate
Cross slide travel
300mm
Compound rest travel
130mm
Cross-section size of tool shank
25×20mm (1×6/8inch)
25×25mm
Tailstock
Taper of tall stock sleeve
Morse No.5
Diameter of tall stock sleeve
65mm
Travel of tall stock sleeve
120mm
Motor
Main drive motor
4.0kw or 5.5kw or 7.5kw
7.5kw
Coolant pump motor
0.125kw
Rapid traverse motor
0.12kw
Packing size (L×W×H)
Center distance
1000mm
2420×1150×1800mm(96×46×71in)


1500mm
2920×1150×1800mm (115×46×71in)


2000mm
3460×1150×1800mm (137×46×71in)
Net weight /Gross weight (kg)
Center distance
1000mm
1640/2290kg
1680/2330kg
1770/2350kg
1800/2500kg


1500mm
1850/2550kg
1890/2590kg
1910/2610kg
2010/2760kg


2000mm
2090/2860kg
2130/2880kg
2150/2920kg
2250/3070kg
Standard Accessory
1. 3-jaw chuck
2. Driving plate
3. Center sleeve
4. Wrenches
5. Oil gun
6. Operation manual
Special Accessory
1. Steady rest
2. Follower rest
3. 4-jaw chuck
4. Face plate
5. Thread dial
6. Longitudinal automatic trip
7. Live center
8. Quick change toolpost
9. Taper copy ruler
10. 4-position longitudinal trip
Optional Accessories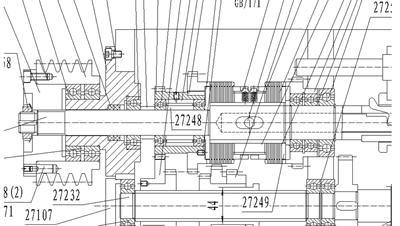 1. Headstock structure with clutch
We supply the metalworking lathe with a mechanical brake machine tool that features a mechanical clutch and electromagnetic power off brake machine tool that utilizes a mechanical clutch. They meet Chinese standard GB15760-2004 or European standard 98/37/EC, 89/392EEC91/368EEC.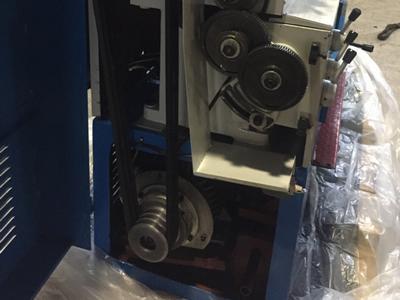 2. Foot brake and electromagnetic brake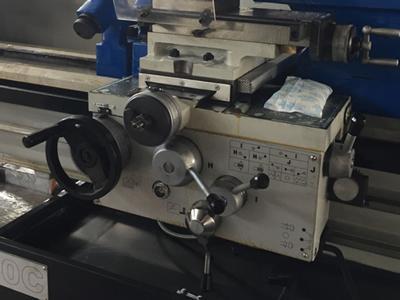 3. Slip-hand maneuvering wheel (left-hand turn maneuver wheel and left-hand turn maneuver wheel with metric or inch calibration loop and single-scale or double scale).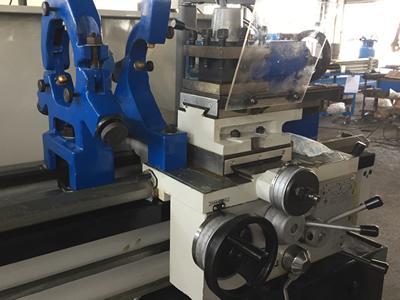 4. CE protective equipment (chuck protection, tool-post protection and leadscrew protection can be chosen).
---
Factory
Index
metal turning lathe, metal spinning lathe, metal machining